live review: mf doom [featuring one be lo, john robinson, and two white guys who really sucked]; chop suey, 12/12/05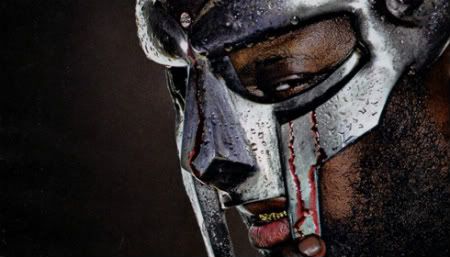 i'm extremely mad at mf doom. not like "he's not my favorite rapper anymore" mad, but "how dare you make your fans pay 22 dollars and get bored out of their minds waiting for you to rock the house" mad. doom, for a rapper, is an extremely charismatic performer, and he really blew the roof off of the joint. but making us wait FOUR HOURS to get on, and making us sit through five different rappers before you decide to take the stage? wow.
the first rapper, i actually forgot his name. but i remember the fact that he was awful. "white privilege" was his first song, which was basically a gripe that he wasn't being respected as a white rapper, name-dropping eminem and elvis in the process. ho-hum, get over yourself. the highlight of his set was when he threw on a george bush mask, and did an awesome satire rap from the point-of-view of our president. then, he went into the most horrific, embarassing display of hip-hop the entire night: "the penis song", in which he wasted three and a half minutes complaining about how small his penis is. horrible.
one be lo then took the stage, and i hate to spoil the rest of this paragraph, but other than doom, the man also known as one man army was the best rapper of the night. he had skill, charisma, stage presence.. he was the total package. he deserves to be successful. my buddy austin and i congratulated him as he walked through the crowd later on. my other buddy ryan bought two of his cd's, and we listened to them on the way home.
moka only was the next rapper's name. he was a tall, lanky, goofy white guy that couldn't rap. and he used the n-word very freely. i'm sure he only did it because 80% of the entire crowd was white. he was an embarassment to hip-hop, and at one moment, when the crowd fell silent, i booed him, and the part of the audience near me laughed hysterically. then, in a moment of defense, he mocked me, which i thought was cute. this guy was definitely the worst rapper of the night.
then, doom's hypemen came out and performed a couple [boring songs]. then, john robinson came out, and although he was good, the crowd was bored and hungry for some doom [we'd been listening to music since eight, and it was nearly 11:30]. then, another of doom's hypemen performed a song, and they weren't as good as john robinson's shit [mostly because john had almost all of his tracks produced by doom]. i was asleep standing up, then i heard a loud cheer. IT'S DOOM-- in a long-sleeved t-shirt and a backwards, all-black, new era fitted cap! he stood behind the turntables for the rest of his hypeman's set, and everyone was into it, because DOOM WAS IN THE BUILDING!
finally, doom starts off his set with "hoe cakes", with everyone in the crowd chanting "super"! our hero went into an abbriviated tour of mm.. food, with the crowd in the palm of his hand. he did "kookies", "kon karne", "beef rapp", as well as other songs. he also went into a few madvillain songs, which elicited just as big a response as the mm.. food joints. he did "curls", "figaro" (which everyone belted out at the end..), and "accordion". then, he went all the way back to operation.. doomsday! those songs didn't generally get a great reception except for longtime fans like me and my buddy bryan.. especially when "rhymes like dimes" came on. then, he left the stage and did a one-song encore from take me to your leader. and he left just like he came. with the crowd wanting more doom.
the show as a whole was way too long, and with a small percentage of quality acts. if the bill only consisted of doom, one be lo, and john robinson, then the show would have been a success. but the shitty white rappers caused the show to be a bit of overkill. and the white guys were so shitty, i told austin (who, just in case you didn't catch it, IS white) that i would be embarassed to be white that night. but i suppose the bill made people even more hungry for doom than anyone expected, which made his performance even more exciting.